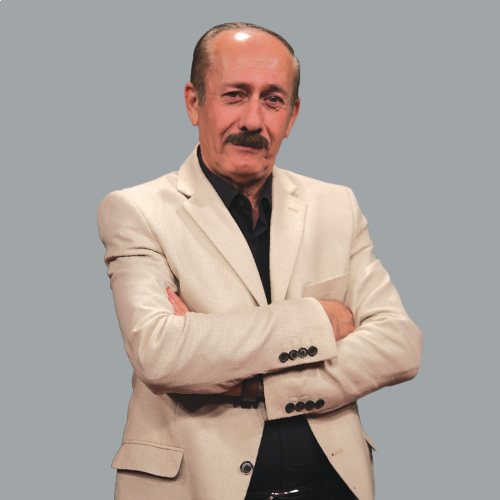 I was born in Malkandy neighborhood in Sulaimania in 1965. I have finished my intermediate education in the same neighbourhood. After that, in 1981 I joined Sulaimania Fine Arts Institute/Drama Department-Directing branch. While I was student at the institute, I participated in many plays. In 1982 I became a member in Sulaimania Acting Team and had participation in a number of plays, including ( Mangi Awa Bu, Pontela u ---- , Aw Piawai Bu ba Sag, Dwa Gorani, Mndala Bchkolanaka u Gashti Charanoos) and many more.
In 1985, due to having role in political activities, the Ba'ath Regime arrested me and prisoned me for four years in Abu Ghreb Prison. After the Uprising in 1991, I participated in various artistic activities. Some of those plays that I directed them as far as I remember are : (Baraw Kalawa, Faili Bartil Khorakan, Parezarakai Rahma). Darstan u Yasakay was a play shown four continuous months in Sulaimania which later on also shown in two cities in Germany, Mannheim and Nuremberg.
Darmanakay Rahim was another play shown two continuous months in Sulaimania. I also worked for several years in some TV programs such as ( Hamarang and Barnamai Barnama). For 4 years I was the director of the TV program (Qaqa) which was broadcasted in Kurdsat TV. From 2012 until now I am one of the main actors of Bazmi Bazm TV show, besides I am the program supervisor of the program. I also have participation in cinema, that was in a film named Paikari Dl.
In 1989 I married the artist Rezan Faraj. I am the father of a daughter and a son. As a family we have happy live. Currently I live in Sarchinar neighborhood in Sulaimania. Besides, I am technical manager in administration of electricity.